This review is for a K-3rd art program that is suitable for both secular and Christian homeschoolers.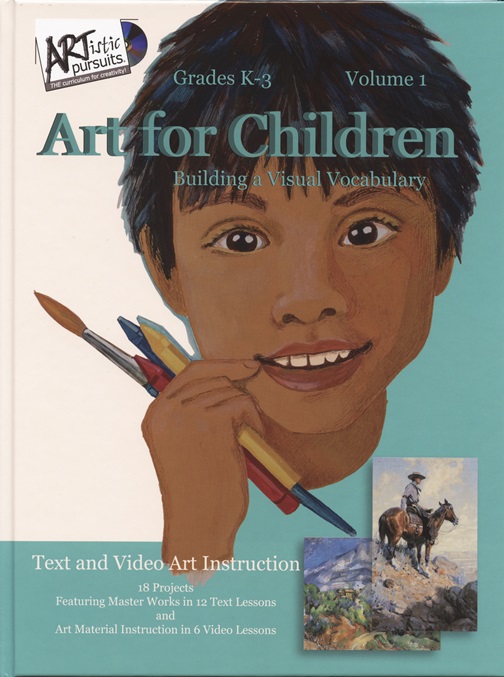 ARTistic Pursuits Inc.
has developed an art program for homeschoolers that is simple and easy-to-use.
ARTistic Pursuits Art Instruction Books with DVD and Blu-Ray
combines art appreciation and art history with art technique and creation. Our family used Art For Children, Building a Visual Vocabulary the lessons are short and will only take about 10 minutes of teaching time, however, your child will need more time to work on their assignment. How much time depends on the child but based off of my experience I would schedule at least 30 minutes for them to complete the assignment.
The lessons come in book format with some lessons also using a DVD video (The book comes with the DVD, no extra purchasing is needed.) There are 18 lessons in the book and 6 of those have an added video component. Although this is written for the K-3 crowd I did test it out with all of my kids to see if it would be a good choice for moms who are looking the teach art to all ages at the same time. I did insist that when the book presented questions my older ones had to stay quiet and let the 2nd and 3rd grader answer.
I think my favorite part of the program is that it incorporates art-study with art-action. This is something I feel is missing from most programs, and putting them together means less work for mom. If you need a simple art program that covers multiple areas and could be easily completed with once a week lessons this product will be a great fit.
I feel the weakest area of the curriculum is the technical aspect. I felt some techniques should have been included in the instruction. For example, the children are using water-color crayons, but for the water brushing step to work they need to be careful not to push the crayons with a lot of pressure as they are coloring. This was not mentioned and the water effect did not work well if the image was colored darkly. I also had to help a little with prompting the kids to think about how big their objects were and how big their paper was and imagining their image on the paper so they could both fit it on the page and also not have an overly tiny drawing (depending on the object).
Having said that, I want to encourage you that it is an easy to use program, and because of that you are more likely to stick with it then a program that takes too much prep work or time.
However, if you kids are really wanting to improve drawing skills I would add something technique based to complement this program.
As far as the older kids using it, they thought the tone of voice used in the video was odd. It does sound like they are addressing a very small child who is a bit slow. (I usually call this kind of voice talking-down). It is still suitable for family art study, just remind your older kids that it was written for younger children and so some parts may seem overly simple to them. As far as the assignments go, they are somewhat open-ended and will work well for any age.
Each assignment has a bit of a theme, but within that, the children can draw the picture they want. The assignment I am sharing was to select a few favorite objects from their room, arrange the objects, draw and then fill-in with watercolor crayons finishing with a wet brush. The video shows an artist drawing and coloring a cowboy hat and horse.
Check out reviews for other programs by Artistic Pursuits Inc. at the Homeschool Review Crew Blog.