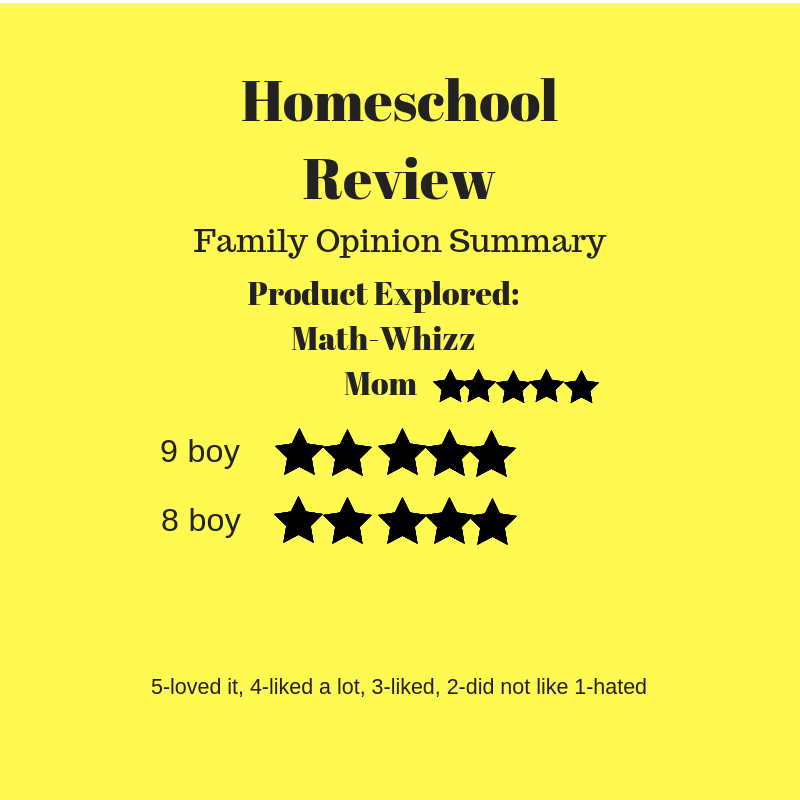 This math product is appropriate for both the secular and Christian homeschooler. The program covers math through 8th grade.

Whizz Education
is a company focused on individualized learning. We had the opportunity to try out their math program
Math-Whizz
. The program starts with a test to see where your child is at and then assigns them a math age. This was used primarily by my youngest who is 8-years-old.
The following are screenshots of a sample lesson. In this program, the parent can go into their own dashboard. From there, one of the things you can do is see the next few lessons your child will be learning. You can even play through the lesson from your parent dashboard and it will not affect anything on your child's log-in.
Each lesson starts with some basic instruction.
Followed by clear examples.
Then it is the student's turn to answer practice questions. In this lesson when your child gets the answer correct there is a fireworks animation.
If they answer a problem incorrectly they will be gently redirected with a helpful tip and asked to try again. This immediate correction is extremely important and I was happy to see it incorporated so smoothly into the program.
Your Students Options
Inside of Math-Whizz your student can start the tutor to learn the next new concept, hit replay to practice topics already learned, or take a break and check messages. (The parent can send messages from the parent dashboard.)
The following screenshot is of the student's study, where they can navigate to many different areas, including checking on how many credits they have. Credits are earned simply by spending time doing math in the Math-Whizz program.
Credits allow the student to purchase a pet. They will then need to earn more credits to buy pet food in order to keep their pet alive.
Or they can choose to spend their credits to play games.
Math-Whizz is very user-friendly and well-designed. I did not come across any problems with the program while using it and plan to continue using it. After a week or so of seeing my youngest play, my 9-year-old asked to also try the program. He completed the assessment and is very driven to earn those credits so he can play those games. The 8-year-old was more interested in saving credits up for a pet. The in-game motivation is very helpful to keep kids happy and excited to play. When kids are excited to do something, they will learn much more easily.
If you read my blog much you know I write a lot about how the brain learns. For me, this is a stand-out product because it checks all the boxes I would want to see in a program from the standpoint of how a child's brain learns.
My boys both love it and sometimes play/learn extra because they want a few more credits for something.
But when I judge curriculum I need it to do even more than be an amazingly designed experience for my kid's brain. I need it to fit into my busy homeschool-mom day. With kids learning at six different levels I am pretty demanding when it comes to being user-friendly for mom. But guess what? Math-Whizz was an absolute breeze for me to use. While being easy for my kids to use on their own, it was also easy for me to check on their progress and get the big picture quickly, or dive into as much detail as I wanted.
Here is a screenshot of one of the reports available from the parent dashboard.
Want more detail? You can see every lesson learned and the score earned.
While you are in your parent dashboard you can connect with your child by sending a little message. You can't see it here, but the dog in the bottom right corner is animated and ties itself in a knot. There are other 'stickers' you can choose from to put on your child's note.
What more can I say? This program has great math, solid understanding and implementation of how kids learn and is designed to be easy on the parent.
I would give it six stars if I could.
To read other reviews of Math-Whizz check out the Homeschool Review Crew.