Creation Illustrated is a science magazine with a Christian focus. The magazine publishers have put together unit studies to accompany some of the articles in the magazine. For this review, we used the Pine Tree Unit Study. The unit study is meant to go with this edition of the magazine.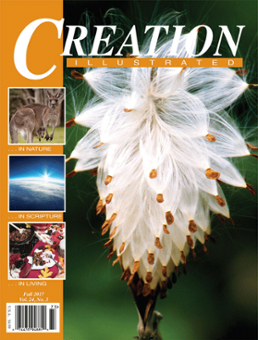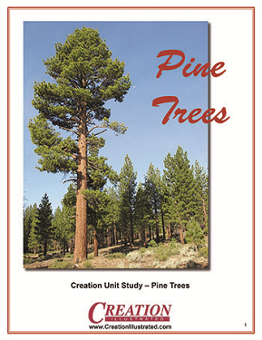 The first thing I want to note about the unit study is that it is written with a target range of 5th through 8th grade. This is older than many unit studies are designed for and I was curious to see if it was an accurate label. The study is engaging and educational for the middle school crowd. My ninth grader also joined us, enjoyed it and learned new things. On the younger side, my 4th grader joined us for the first couple days but did not want to stick around after that, so I would say 5th and up is accurate.
One thing I always like to know about a unit study is how much time it will take to implement. This helps with planning budgets of both time and money. So, as we worked through I kept track of the time we spent each day. The total before writing and art assignments was 4.5 hours. My kids spent another 30 minutes with the writing assignment. Art was variable depending on how artsy each of my kids is, I think one spent 5 minutes, another 10, and another 30. I would say depending on how much time you want to spend each day, this could last either a week or a month. We spent about 2 ½ weeks working through it. (I did all the suggested activities included in the unit, so this would be as accurate of a measure as possible.)
The unit study begins with reading the accompanying magazine article from the corresponding edition of Creation Illustrated. Then, like all good unit studies, includes diverse subjects, such as Bible study, vocabulary, spelling, math, art, writing, science, and geography. We found one link to a suggested article did not work, and one video link did not have much educational information in it. The rest of the links worked and were educational. (I think this is a pretty good ratio as links always run the risk of changing or expiring.) The only other note on quality is that there was a spelling error and missing word on the word search that was included in the unit.
I was glad to see math included, as I feel it is often neglected in unit studies. Overall, I would say this is a good quality unit study and it is nice to see materials like this being developed for older kids.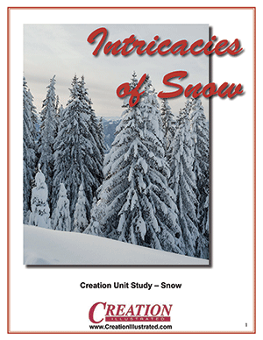 We were also given a
unit study about snow
, which I want to mention because it looks like a lot of fun. I did not have time to use the unit with my kids, but I did look it over to compare it with the pine tree study. I would say the snow study will take more time because there are more science activities to go with the unit. I also noticed the snow study unit includes additional literature book suggestions to go with the unit, which means you could draw it out even longer if desired. (These suggestions are found in the teacher answer key section.) The unit has a similar structure covering the same subjects as the Pine Tree Unit Study. For more detailed reviews on the snow unit study check out other posts on the
Homeschool Review Crew Blog
.
If you are looking for fun nature-based studies that are Christian based and appropriate for older kids, then this is going to be a great product for your family.
Go to the Creation Illustrated homepage for freebies, contests, and information about subscribing to the magazine.