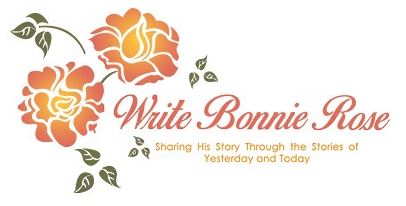 This product is for early elementary Christian homeschoolers.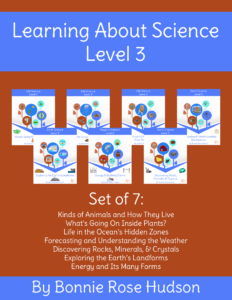 My done with 2nd grade and starting 3rd-grade son has been using these beautiful worksheets that teach science while also working on handwriting skills. He is quite excited to become a cursive expert and so chose Learning About Science Collection, Level 3 (Cursive). This collection is one of many offered at WriteBonnieRose.
He has enjoyed working on these sheets, we printed out the Life in the Oceans Hidden Zones collection. The set comes with 7 PDF files which each focus on a different topic. You can also purchase the topics separately if you are looking for a specific theme to go with a unit study.
We stapled the pages together on the side to keep them together and so it would look like a little book. I don't buy colored toner, so here is how it looked on our black and white laser printer.
Inside the graphics are quality line drawings, which means the kids can also color the pictures.
The booklet is packed with information, it starts by introducing the ocean zones, and then each zone is studied in more detail along with several of the animals found in the zone.
For each paragraph of text, there is a picture that can be colored and a word or two of cursive, which is the main topic of the paragraph. This breaks it up into nice small pieces and a variety of activities which keeps my son engaged. I love the review page at the end, it is just right for his age.
There is also an answer key provided for the review.
Life in the Ocean's Hidden Zones is 20 pages in total. How long will it take? This depends on a number of factors, will the child read or will you read aloud? Will they color everything? I read the passages aloud because it is a bit above his current reading level and I want him to have maximum retention, he can concentrate on the meaning of the words better if he can listen to me read. So for us it took about 15 per page, more if he colored the pictures. We all know how much children's coloring speed varies from child to child, he colors slowly so needed another 15 minutes if he colored the 3-4 pictures on the page.
I am not promising this booklet will take your child 3 hours in total to complete this booklet, mine is slow and methodical, so if you have a rush-through kind of kid, each page may only last 5 minutes in total.
Either way, this is a great product and well worth the price. The bundle also comes with a discussion helps file with has video links to go along with the units. There are more links available for some units than others (probably depending on what was available.)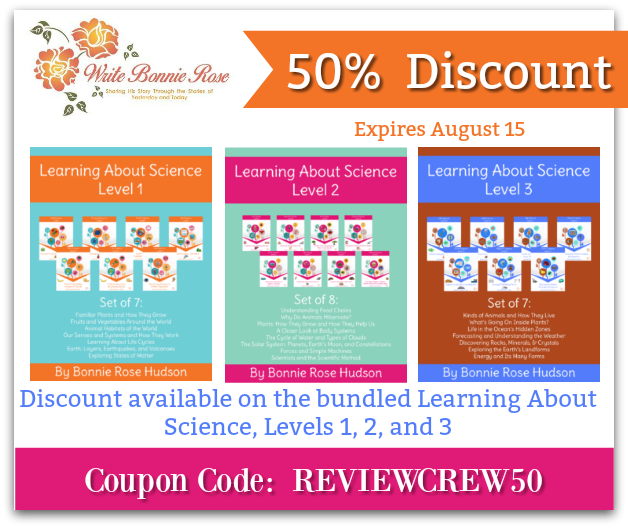 We are excited to continue on with some of the other units we received. Up next will be Kinds of Animals and How They Live, because my son loves all things animal. There are a lot of video links for that section, so he will probably get to watch one to go along with his studies most days. The animal book is 17 pages. I think for use each book will likely take about a month to get through because we like to take it slow and just do one or two paragraphs a day.
Another book we are excited to use is Energy and it's Many Forms. This one is a touch longer coming in at 25 pages. Included topics are light, heat, sound, electrical and chemical energy. Their cursive words are the important vocabulary needed as the foundation of understanding these complex topics. Words like conductor, insulator, and radiation. They are not too hard for a young child to copy because every word is completely spelled out, so they need only to trace the lines.
This is great science that is not afraid to teach little kids big words and big concepts done in a clear, easy-to-understand short lesson format.
For more reviews, including print and options for even younger kids check out the Homeschool Review Crew.