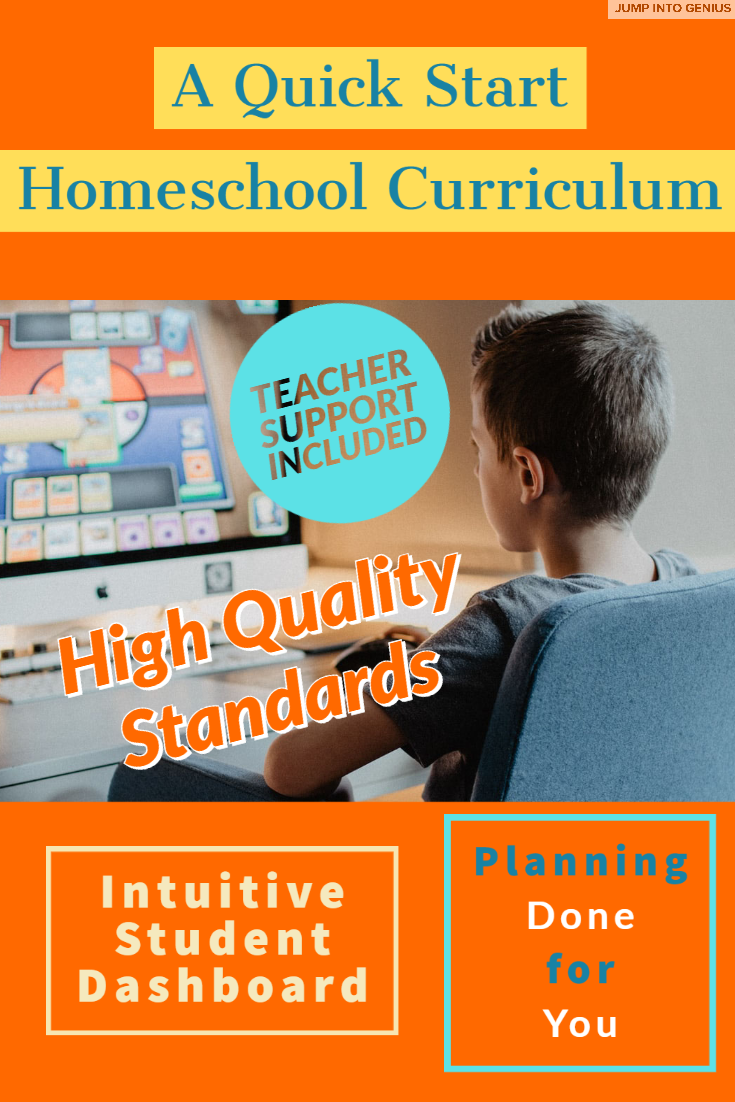 Have you been thrown suddenly into the world of homeschooling? Many parents are in need of a quick start homeschool curriculum that will provide an easy transition back to public school when the time comes. Maybe you can't send your child back to school in the fall because of health concerns. Maybe you just aren't sure if your child's school will even be open this fall.
Maybe both parents work full time and you need an option that is planned out, provides teacher support, and encourages your child to work independently.
You may also be looking for a program that is aligned with state and national learning standards so that your child can easily integrate back into public school when the time comes.
Some people are finding a good online public school at home option they can sign up for, but others either don't have a good option available or need something that gives their child a little more freedom to finish assignments at their own pace.
If I just described your situation I recommend checking out Study.com.
Help Planning and Getting Started
Study.com has an extensive website with full curriculum. They have also collected a very helpful list of resources for new homeschoolers, from state laws, to tips on creating a schedule. This extensive resource page is free.
The homeschool planner and daily schedule that Study.com put together is very well thought out and accounts for the many needs of children including time to be active, eat, and get creative. Homeschooling isn't just about academics, it's about creating a lifestyle that supports healthy physical, emotional, and mental development.
Using their schedule as a base can save you a lot of time spent wondering what your plan should be. From their you can easily adjust or tweak the schedule to fit your own homeschool's needs.
Did you find your kids were constantly distracted while learning from home this spring?
Resources for High School & College
My first experience with Study.com was actually using them with my teens to study for an American History CLEP test. This test is accepted at most colleges and gives them 3 college credits. With the help of Study.com they passed with flying colors and we are planning to complete several more CLEP tests this coming year.
Study.com has quite a few ways to help your high schooler earn college credits from home.
Study.com is a Quick Start Homeschool Curriculum
Students learn with a dashboard that keeps track of where they are at in each course.
Courses are available for each grade level and subject.
You can choose extra courses on topics your child is interested in if desired.
Your student has on-demand help from expert teachers.
Most content is available with both video and reading options.
Short quizzes keep track of your students understanding of the material and are automatically graded.
Study.com is high quality, are you concerned about common core?
Standards are a Minimum
I want to encourage new homeschooling parents to understand that many standards, from state standards to common core are minimum standards of learning. Most curriculum you buy will go far above and beyond those minimum standards. In fact, those standards are also just a guide for public school teachers, they will go above and beyond those standards during class instruction and homework assignments.
It is impossible to guarantee that your child will learn every exact same detail as their peers in public school, but most curriculum teaches similar topics and ideas to certain grade levels. In fact, even across public schools not every 3rd grader learns the exact same content, but there are general topics that all 3rd graders learn about in one way or another.
I say this just to encourage you that your child will not fall behind. Even if they miss a detail or two, they will probably learn other details that are not being taught in the classroom. Learning is an active, dynamic process. What you need right now is a good curriculum to ensure your child is getting the same general topics and concepts as their peers so that if or when you choose to send them back to public school they will be on solid academic footing.
Study.com is an excellent curriculum and covers all the basics your child needs to know. The company is aware of various standards and uses those as a guide when building their classes.
Disclosure: I was provided with free access to this curriculum for a period of time in exchange for my time spent writing this article. This is an honest article based on my own opinions (I am also a paying customer ). There are no affiliate links in this article.